Prizes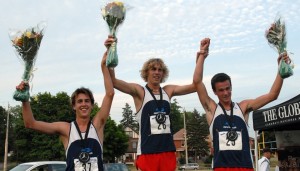 There will be merchandise prizes for top three in each race and for 5 year age categories in the masters.
Sub 7:00 Sub 6:00 and Sub 5:00 ribbons will also be awarded to all deserving runners!
Cash prizes for high school and collegiate invitational races:
1st place: 750.00    2nd place: $500.00    $250.00
GRAND PRIZE FOR MALE AND FEMALE COLLEGIATE RUNNERS: A month long stay at a high altitude training camp in Kenya's Rift Valley.  Prize includes return airfare from Toronto to Nairobi, one month accommodation, food, and coaching.